CONSULTANT'S ORGANISATION
EAP Consult Limited (EAP) is a firm of Consulting Engineers specializing in the fields of Civil, Structural, Highway, and Water Engineering. The firm has extensive engineering experience in undertaking public and private projects in Ghana which encompasses new projects as well as rehabilitation and reconstruction projects.
EAP was established in 2011 in Accra, Ghana under the Company's Code 1963 Act 179, as 100% Ghanaian owned.
EAP CONSULT LTD
EAP is consulting Engineering Firm made up of experienced Engineers, Architects and Planners. The Firm operates a projectized system with a dedicated team allocated to each project undertaken to ensure maximum return on the Client's investment.
The core competency of EAP as a body corporate rests in Engineering Designs and Supervision of Engineering works mainly in the Water and Sanitation Sector. That notwithstanding, we continually form strategic alliance to enable undertake projects that do not necessarily fall under our competency. By so doing, we have been able to develop the skills of own staff and enhanced our capabilities as a Firm.
Our in-house management team collectively represents 50 years' staffing industry experience and specializes in successfully delivering project management, design services and training, community education and training and youth development. Our successful track record is built upon a combination of diligence, flexibility, and process, all of which provides a thorough understanding our clients' needs. Our high-quality service, coupled with competitive rates and our extensive database of qualified personnel, combine to make EAP Consult Limited staffing the right choice for your consulting needs.
EAP is committed to implementing quality assurance on all corporate activities and on projects undertaken on behalf of clients. 
Our Organisation Structure is a below;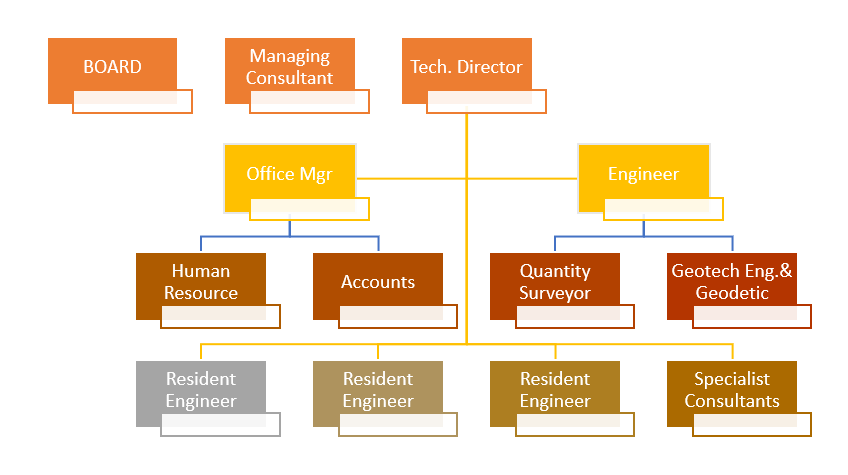 EAP Consult Ltd has been involved in the development of water and drainage master plans, supervision of water reticulation systems, supervision of water projects, structural design/supervision of water retaining structures, designs/supervision of high-rise building projects as well in the training of technical staff of some organizations.
EAP Consult Ltd is duly registered by the Ghana Institution of Engineering and the Public Procurement Authority of Ghana.
Our mission
Our mission is  to provide optimal services that cut across procurement, engineering and construction consultancy by providing sustainable and cost effective solutions.
We committed to implementing quality assurance on all corporate activities and on projects undertaken on behalf of clients. 
Our Vision is to be a world class consulting firm distinguished by excellence